International Roaming: Vegas to Alamo
I wake up.
"Well, this is it. No way you can get out of it now".
Puffy eyed from my brutal night of tossing and turning, I haul myself to the shower. While getting dressed, I meticulously pack my stuff, knowing it's destined for the back of the bike. Lugging my gear downstairs to check out of Bally's, I forego my complimentary buffet breakfast. For those of you playing the home game, skipping a meal (let alone a free breakfast) is a clear indicator that I am not well: I'm ridiculously food motivated and even sneaking snacks into funeral services is not off limits for me.
I attempt to pay my 'resort fees' (oh my lordy be, seriously, why a fee for everything?) when I am advised my bank has blocked my credit card courtesy of the $6K I had chucked on it the day before. EVEN THOUGH BIG FOUR BANK KNEW I WAS TRAVELLING IN THE US. Our Bally friends on the counter couldn't let me dial the bank back in Australia or charge it to my room (International Hotel Casino WTF?). It is only getting hotter out there in the Vegas sun. Worn out from last nights panic attack and starting to not give any fucks, I sigh out what would become my mantra for the trip - "ohhhh fuck off" - and just get into a cab.
Walking into Eaglerider, already melting to death in my leather jacket, Kevlar and riding boots, I drop my duffle bag by the counter at 7:48am. This was as ready as I was gonna be. The darlings set about doing final checks on the bike. Meanwhile I load up on free coffee. Generously, they let me call the bank to sort that nonsense out. I go to the bathroom every fifteen minutes (unsure if it is the coffee or the anxiety at this point), deflecting every conversation flung at me, all lead by: "this lady over here is riding to Sturgis on her own!". Finally they walk me over to my ride, a beautiful 2015 Indian Scout with black tank, gun metal detail, and tan leather. The perfect cross-country cruiser. I am petrified.
I dick around for a bit, strapping on my duffle bag and set about working out how to occy strap (Australian for octopus strap, basically strong elastic with a hook on either end) a gallon plastic jerry can on the back. "You're gonna need that if you go off the interstate. Only does 120 miles to a tank". Fuuuuck. This is also the exact time it is suggested I take the state highway 93 to Wendover, via Alamo, Lund and Ely. Well I went to all the trouble of strapping on the jerry can, fuck it. Why not?
Finally, at the closer end of 9:45am I get on the bike, shaking. No one is paying any attention. No one is cheering me on. No one cares. AT. ALL. I'm here doing one of the biggest things in my life and they're all off doing their own shit. I'm having this life affirming moment, thinking it's all about me and when it comes down to it, the rest of the world gives zero shits. I try to act cool (I suck at acting cool). Turning the key, I say bye to an imaginary no one and pull out of the Eaglerider lot, lifting my feet off the ground and awkwardly settling them on the forward controls. I stop where the road intersects with a split two lane drive: my first left hand turn from the right lane. I check every entry and exit point of the intersection at least three times. Clear. I roll on, looking toward where I want to go, ignoring every muscle in my body, tensing from twenty years of muscle memory that wants me to turn into the lane closest to me. Ermagherd. I'm doing this.
Not even a kilometre away I realise I don't have my phone.
Fuuuuuuuucccccckkk.
Wasn't in my jacket pocket. Shit, did I leave it in my back pocket?! Is it crushed on the road outside of the truck stop I just went past? It must have fallen out of my back pocket! - Hello panic!! I scout the road - nothing. Didn't even make it a mile. Circling back into Eaglerider I pull up awkwardly. "Has anyone seen a black iPhone?" My question is met with blank stares and shrugs. Go back in to trace my steps. Fuck, fuck, fuck.
Walk into the bog. There it is. That'd be right. I'd been to the toilet so many times, I'd left it on the toilet roll dispenser. Christ. I very nearly went into the desert blind without any form of communication. Clearly not a Boy Scout.
I set off again - today is my first time (ever) riding a 1200cc motorbike, and I'm doing it on the right hand side of the road, in 42c (107f) heat, pulling out onto four lane interstate - Hello I-15!! I'm actually grateful it's past 10am now as rush hour has well and truly subsided. I'm sure I'm going too slow but I just go. I keep looking out for the 93 Highway exit and am already melting to death.
Stopping in at Loves Travel Stop for Subway and air-con I feel alien (Rachel is up the road in the direction I'm headed) and unwelcome. I'm paranoid that someone will steal my stuff off the bike or just nick off with the lot. Despite the cool of the A/C, I'm reluctant to remove my jacket in case someone takes offence to my tattoos. Up until this point I've never felt a need to cover up. Uncomfortable and a bit of a mess, I half eat my sub, packing up the rest and a choc-chip cookie. I haul ass back to the bike, desperate for Alamo. I soon realise that these gas stations will become my little glimmers of hope across the desert. Getting back on the bike, I set off up the Great Basin Highway toward Coyote Springs. This is the hottest I have ever been in my entire goddamn life. If I was going to die on this trip, this is when it would have happened
But nothing's happened.
I push on, still melting to death in the Nevada sun and still nervous with the 1200cc.
A lifetime of American movie conditioning had me wary of highway patrol. I'm in the desert; no chance of a Super Trooper scenario going on here right meow. I dutifully keep to the speed limit (and on reflection this is hilarious but gee whiz, I was convinced I'd be arrested and I just could not get down with that at this point).
Cars zoom past me as they overtake on the long stretch along the 93 Highway..
I master the art of waving them past.
Once I've been riding for half an hour something clicks over in me. I start to notice scenery. As desolate as it is, everything seems to be more intricate - there is an otherworldliness settled into my retinas. Maybe I'm hallucinating due to heat stroke but on reflection I feel that this is the very moment where I cease to panic about where I am, what I'm doing, what the machine I'm riding is capable of, what could go wrong etc. This was when I found that special space that all riders know: where it's you and your bike; the noise of real life just melts away from your mind. An almost meditative state. The shit you were worrying about, it doesn't seem like such a big deal anymore. A big fat smile spreads across my face. I am fucking doing it. I check my mirrors - nothing for miles - and I crank that throttle up to 90mph… my first of many fangs on wide open road.
I bond with the bike immediately - the torque is dreamy, the seat comfortable like a sofa, it handles well and aside from adjusting to forward controls (my CM250 has all controls below the knee!) I begin to feel like the 2015 Indian Scout was made for me. I name him Drazic after the dreamy 90's heartthrob of Heartbreak High. Drazic and I are in for a crazy adventure.
Loading up on water prior to the trip I somehow manage to drink (and possibly evaporate) 3L before my need to pee becomes dire.
There is a quick stop off (Pahranagat Valley) and I am hoping to find a bathroom. Or at least pee on the side of the road. As an Australian in the desert, I'm well aware that snakes are a thing, so I can't bring myself to drop my daks. Imagine the headlines: Australian Idiot dies from Rattlesnake bite on the arse in the desert. I have no reception whatsoever (in retrospect, I would have thought this to be an issue but had clearly gone beyond caring). So back on the bike to find Alamo, bladder still full, but butt unbitten.
Fifteen minutes later (which literally feels like a hundred years), I pull into the Alamo Sinclair, for my first interaction with a U.S. Gas station. The prepay pumps require a postcode to work and the only American postcode I know is 90210 (RIP Luke Perry) but this doesn't work. I am busting by this point. The petrol pump is getting up my nose now. I dance around a little, melting to death still. I can't take it anymore. I close up the tank, hop back on and pull into the parking space out front. Still unsure if this is a point I should lock the bike but my bladder tells my mind to shut the fuck up and go find a bathroom. Stepping into the Sinclair I am immediately bathed in heavenly air conditioning and greeted by Jeff Bridges. "Sir, may I use your restroom?" (I call everyone Sir in America). The Dude says sure thing and I bolt to the loo, for what is still (to this day) easily the most satisfying and extensive pee I have ever experienced. I walk out of the stall, run some cold water over my wrists and splash my face. Whaaat? Jeff Bridges runs a gas station out in the Nevada Desert?!
I peek out the bathroom door. It definitely looks like Jeff Bridges.
Spoiler: he is not Jeff Bridges but still, exudes dude-like chill. I prepay my fuel inside the gas station, roll back in front of the pump (no mean feat as I get accustomed to manoeuvring what is supposed to be 245kg dry weight), fill up Drazic and then roll in back into my former parking space. As you can imagine, I am legit sweating balls by now. I walk back into the gas station, grab a 2L bottle of water and settle into a booth to restore my body temperature to something a little lower than 'scorched surface of the sun'.
I get chatting with the Dude and ask about accommodation. He tells me the Alamo Inn is a quarter mile up the road and offers to call them for me. He speaks to a lady there who says come on over, she'll prep a room for me. I hang out for a bit longer (ermageherdAirconditioning) and then emotionally prepare for reapplying my jacket and lid.
106miles (1.5hr drive) took me 2.5hrs (including stops).
True to form, the Alamo Inn is a quarter mile down the road. It's simple but what I need and priced right. I check in - lucky 13 - and start unloading the bike. All I want right now is a shower and my shorts. It's still a pulsating 38 celsius (100f) outside.
Freshly showered and at a semi-functional operating temperature, I walk back outside through the gaze of the blazing sun; even though it's now 4pm there is still no relief from the heat just yet. I ask at reception about where I can buy beer. Back to the Sinclair Gas Station I walk as there is no goddamn way I'm putting my bike gear back on. I grab some ribs and beans from the the takeaway and think about my day so far, how not even 24 hours ago I was having a panic attack in a Vegas hotel. I feel so peaceful and settled, like I've lived in Alamo most of my life. I saunter back to the Inn, crack a Coors and watch the sunset settle from the little bench outside my room and have a yarn with my neighbours. The beer is cold and the evening air, while still warm, is comforting. The Inn's owner, Vern, and his dog, Bella, come past and join our small party. He tells me of the Silver State Classic Challenge, an authorised open road racing event that has run since 1988 on a 140 km stretch of State Route 318 in Nevada which they close just for the occasion. I fantasise about fanging 140 miles an hour along the route I've just come. Would have been quicker…
After a good yarn and couple sundowners, I settle in to my vintage suite, the nerves of sleeping in a strange motel room in a strange town in a strange country entirely erased by the Coors Lights I'd knocked back. The A/C is loud but really, right now, I couldn't give two shits about it. I need to start riding at 6am to beat the heat. I look at google maps on my phone, slightly awed. I've conquered so many fears today.
Made it this far. Fuck it, I'm going to Bonneville.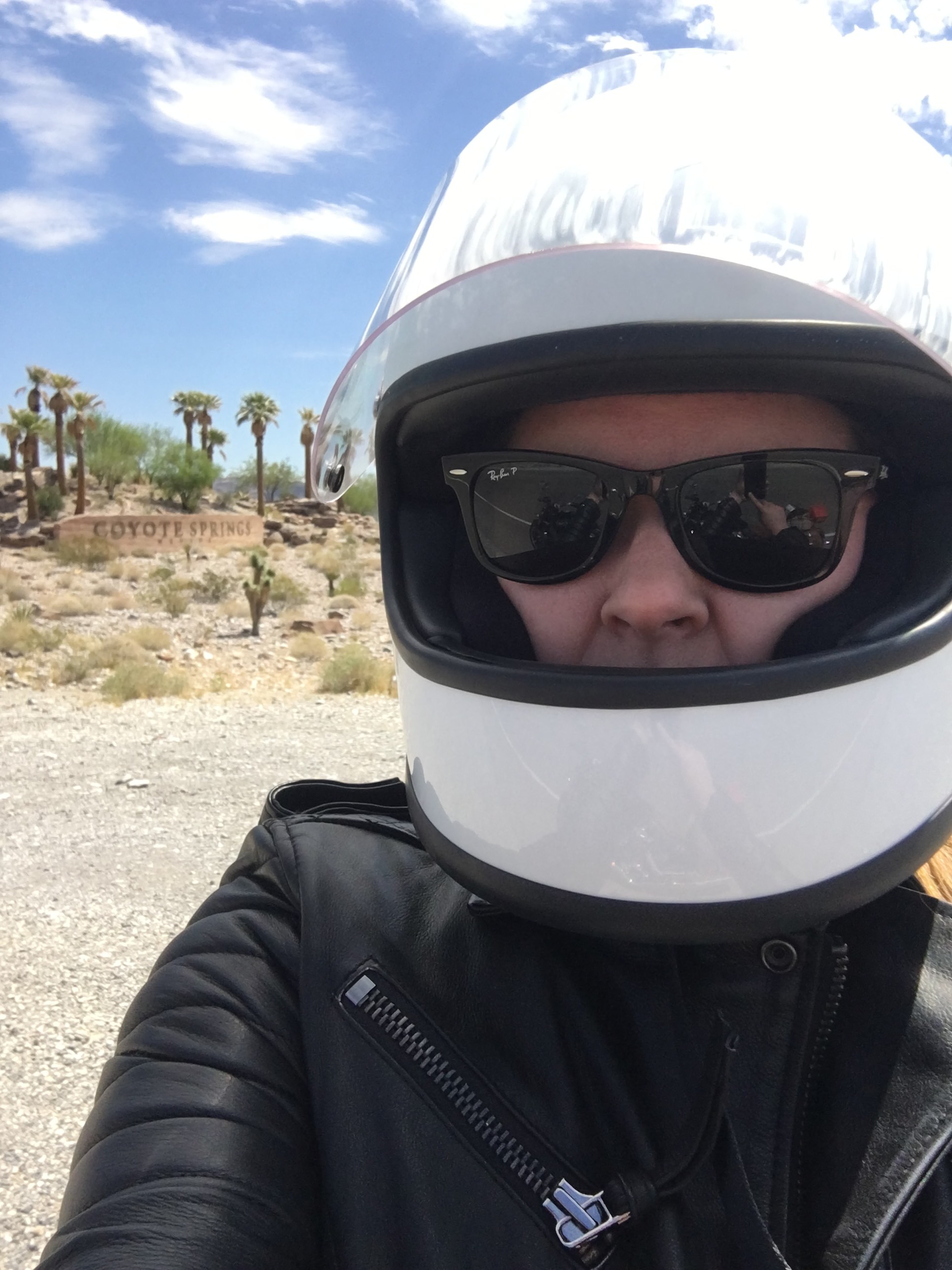 Kel McIntosh
Kel has the face of a siren and the mouth of a drunken sailor. She enjoys dancing up a storm to Slayer and 1930s jazz, whispering sweet nothings to her CM250 'Bronson' and delicately adjusting her carburettors, but can also tell you the genus of Magnoliophyta. Kel is our Associate Editor and Project Manager, and has the organisational prowess of a circus ringmaster, using it to crack the IVV team into shape with colour coded calendars and to-do lists.