SANTINA: Fighting the Good Fight
I had the pleasure of meeting one Santina Keith at a female-rider gathering she had organised at her Eagle Rider shop last year (n.b. in Australia this type of planned event is so few and far between that one makes an effort to attend, no matter how much it is raining, or how far into another state it happens to be). Whether you converse with Santina by email (from overseas, convinced she is actually a tanned, burly Australian man named Keith - this happens regularly, apparently), or have seen her pop up on social media (she manages multiple accounts, including one for her goggle wearing doggle), or had a real life conversation, you'd become acutely aware of her passion for motorcycling, and the contagious nature of this very real enthusiasm on those around her.
Bike dealerships are not places you would usually expect to be looked after by a trained mechanic (or an incredibly practical person), let alone a mindful and caring one. It was refreshing to hear that, when faced with the prospect of hiring out a bike to a guy from the USA who intended to ride 11,000+ kms across the country in the height of Australian summer, she provided her personal mobile phone number in case of emergency. I mean, sure, he was ex-marine, but a country that is >7.5 million square km and 70% semi-arid, arid, or desert, is a whole lot of space to traverse. There were only a couple of phone calls from the police in Tasmania, concerned he was part of some wayward gang. He returned with his hire-steed while Santina and I caught up and got some photos last week, and everyone was incredibly relieved.
Jo-Ann McEwan: Learning to ride, what was your experience? Did you have a mentor, or did you one day just decide to go for it?
Santina Keith: My family were not riders. I grew up in a rural community in the mountains so when I moved out on my own at 18 all my friends rode dirt bikes. The first thing I ever rode on my own was a Honda 250 ATC three wheeler. It would do great donuts and I learned how to work the throttle, clutch and use my feet. It didn't take long after that for me to move to a two wheeler. A couple years later I got my street license. I didn't really have a mentor as much as a big man that screamed at me and told me I was making a fool of myself and embarrassing him. Needless to say I ditched the man and kept riding.
JM: Do you feel a connection with other types of motor vehicles too? Or has it always been about bikes?
SK: I am a gearhead. When I was a teenager I got a four wheel drive ute with the big tyres and learned to do trail side repairs. At community college I took my first mechanics courses and learned to do body work. I think one day I'll play with a classic car but my love and heart is with motorcycles.
JM: When did you know you wanted to work in the motorcycle industry?
SK: I had one of those weeks where my life imploded. I was sitting in the backyard at a BBQ with a friend explaining how pathetic my life was and how lost I was. Just then a motorcycle came riding by that drew my attention. At that moment my life changed when he said "That.That is what you need to do. Do you have any idea how much you light up when you see, talk about or ride motorcycles? You love them - go figure out how to work with them." A couple days later I saw an ad for the Motorcycle Mechanics Institute. The rest is herstory.
JM: As a trained mechanic, having studied at the Motorcycle Mechanics Institute in the US, what is most often misunderstood about engines?
SK: Just how they work. The internal combustion engine is a beautiful thing - like mechanical poetry. Learn how your engine converts fuel and air into power. It's fantastic!
JM: Have you had any low points in your career? How did you move on from there?
SK: Low points? Me? Nooooooo.
Ha ha ha OF COURSE I have, that's just how careers go. I've learned more from my failures than the successes. I do what I need to do; cry, scream, curse, sleep or ride. Then I get back up and get on with it. At one point when I was going though trade school I was really struggling. It was hard, really fucking hard and while most of the men around me were supportive a few were really starting to wear me down. That paired with the long hours, massive amount of information and living in a strange city sometimes got to be too much. While I was in school I received weekly letters from my Granny. I wrote her back in a moment of despair expressing my frustration and whinging about how hard it was. What I got back was a letter that said:
So for me it doesn't matter that it is hard. What matters is that I come from a long line of strong women that sacrificed so that I could be here. They fought the good fight and abandoned their own dreams so that I can achieve mine. It is out of admiration, respect and love that I get back up and keep fighting because compared to what my Granny had to endure this is a breeze. I stand on the shoulders of the women before me and I endeavor to have strong shoulders of my own to take the weight of the next generation. That is how advancement works.
JM: How do Australian roads compare with America's (as far as riding goes), and what is your favourite road to ride?
SK: American roads tend to be more busy. I love that in Australia I can be on a backroad for hours and never see another vehicle or person. My most favorite recent ride was the Alpine Way. So many curves, the sun filtering through the trees, colourful birds racing me down the road and the smell of trees and earth. It was magnificent. I literally yelled "YAAAAAAAYYYYYYYY!!" while I leaned into the corners.
JM: What do you think would be important to learn about your bike before heading off on a big trip?
SK: The most beautiful words I have learned about traveling are "We pack our fears". You can never pack for all the "what ifs" and almost every issue can be solved with a credit card or a kind local. I see travelers all the time that overload their bikes and struggle to handle them. Buy good gear, buy less of it and figure out how to go further with less. Your bike will thank you and you'll enjoy yourself so much more.
JM: How would you explain your passion for riding to someone who hasn't experienced it?
SK: I have not figured out how to do that. It's like trying to explain colour to someone who is colourblind. How do you put into words an activity that fills you with joy, calm, balance, fear, bravery, independence, camaraderie, peace and boldness? Something that you are willing to do in mud, rain, heat, cold and across vast unknown lands? There is no word I know that articulates why having my face in the wind makes my soul sing and makes me feel like the best and most whole version of myself.
JM: Can girls do it better? Are there benefits to being a woman who rides?
SK: The benefit is to the woman I think. It is fulfilling, efficient and fun but mostly it is empowering. I don't know if women as a whole ride better but as more women come along they are certainly proving themselves on the track, road and in the industry. Women excel when they are given the opportunity to do so.
JM: Aside from being a minority group within gasoline culture, what do you think is stopping more women from getting involved?
SK: This is a very complex issue that has many layers and considerations. I am a big believer that "you have to see it to be it" and as we see more women ride the numbers will grow exponentially. We need to support each other and we need to support the women doing remarkable things with motorcycles. Women who race get fewer sponsors than their male counterparts and they are more closely scrutinised. It is important to follow them on social media, buy magazines that feature them, share their successes, cheer for them and show the sponsors that we care about women racers. We need heroes that look like us in motocross, road racing, drag racing, desert racing, stunt riding and we need to see them as the focused and dedicated professionals that they are.

Need a place to start? Look at Stacey Heaney, Maria Costello, Ana Carasco, Shayna Texter, Ash De Bakker, Behnaz Shafiei, Jenny Tinmouth, Tanya Muzinda, Laia Sanz, Veronika Hankocyova, Laura Rodriguez, Georgina Polden, Ashley Fiolek, Vicki Golden, Jody Perewitz, Meghan Rutledge, Sophie Lovett, and Angelle Sampey. Racing is an expensive sport and it costs a lot to win. They need our support to obtain more sponsorships to be able to compete at the top levels of their sports. Watching Ana Carrasco take a world championship made me feel so happy and proud for her. I know that her place on the podium just kicked open a door for more women racers. And look you don't have to race but if women like Stacey Heaney can ride road tracks and dirt tracks and kill it then surely other women will be inspired by her to take up riding too. You have to see it to be it.
JM: What are your aims for the future of women and riding?
SK: 51% is my battle cry! I want 51% of riders to be women.
I aspire to have a motorcycle industry where manufacturers don't disregard half of their potential customers. I want women riders to stop being treated like a special interest group and valued as prospective customers. I'd like to see stock bikes that suit people that are shorter than 172cm tall with a range of engine sizes and sufficient suspension. Just because you have a short inseam doesn't mean you want an underpowered motorcycle with an inch of suspension travel. I expect that men of small stature will also benefit from motorcycles and gear being created for smaller human beings. I'd like safe, comfortable gear that isn't just small men's sizes and pink. There are some brilliant minds creating this stuff - we just have to focus their attention our way.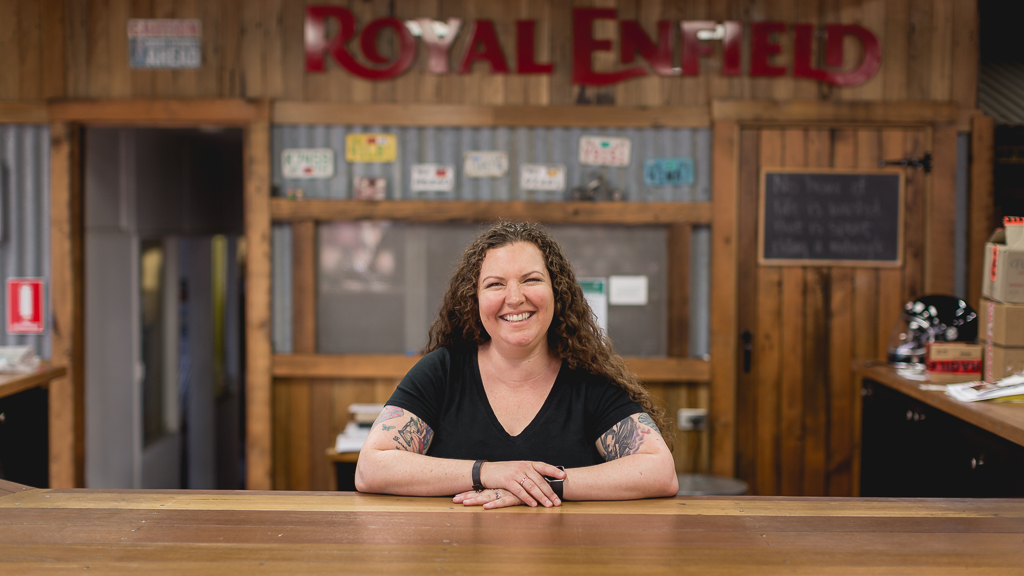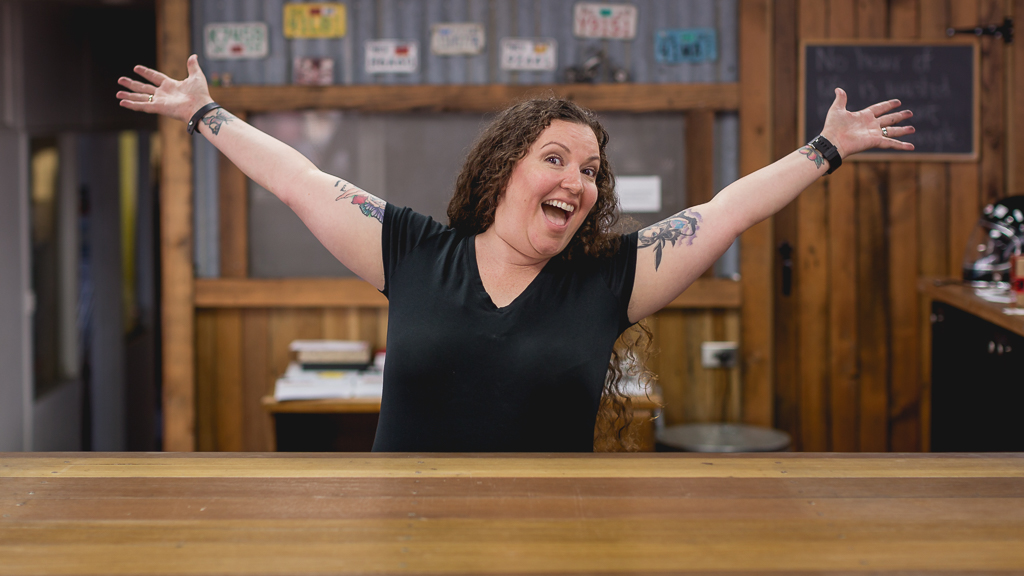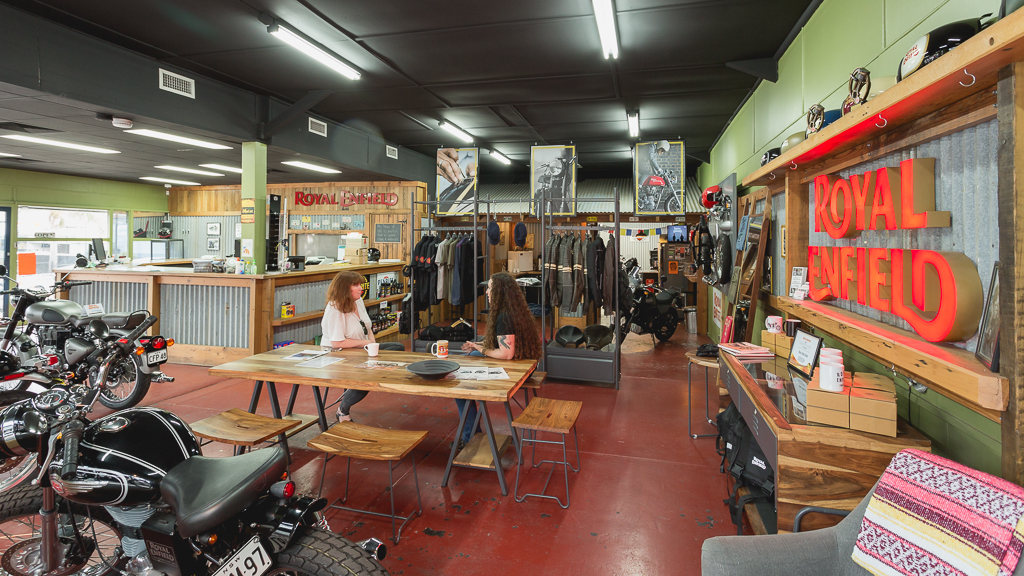 Jo-Ann McEwan
Jo is a buxom redhead looking for adventure. She loves her motor children equally, and if you ask really nicely, she might let you take them for a spin. Easily distractible, but also easily obsessed, she is our Editor-in-Chief, resident proof-reader, and zany ideas lady. Caffeine is her fuel of choice.