PETROLETTES IN HISTORY: Lores Bonney
PHOTO | NEWS LIMITED
Lores Bonney was someone I hadn't heard of until last week, and now that I have heard of her, I'm incredibly disappointed that I didn't know her in real life (and never will, being that she passed away in 1994). A lone paragraph hidden in the back of a History of Transport in Australia book, with three other women-in-aviation paragraphs, outlined how in the 1930s, not having been 'blessed' with any children (and bored of a housewife's existence), she'd learned to fly planes. In secret. While her husband was at golf. Having gotten regular lifts to the airfield from the milkman. Because she couldn't drive. Consider my interest sufficiently piqued: this woman is my goddamn spirit animal.
She was born Maude Rose Rubens in 1897 (changing her hated given names in 1933 to Dolores, shortened to Lores and pronounced Lor-ee). Her family moved from her birthplace of Pretoria, South Africa via England to Australia during her formative years, but, considered too unrefined and rebellious by her father, she was soon shipped off to a 'spit and polish' finishing school in Germany. It was here she met leather manufacturer Harry Barrington Bonney. Despite a nine-year age difference, they were married the year they met in 1917, and together they moved back to Brisbane, Australia. This was also the year her mother shot her father: he survived but they divorced a year later after a dramatic court case. Acrimoniously estranged indeed.
Lores' husband Harry was the cousin of pioneering aviator and inventor Bert Hinkler, who is credited with her contraction of the flying bug during a flight in 1928. Anyone who has been in a small plane (or spent much time on Google maps) would know how difficult it is to get one's bearings with a birds eye view. In this first flight, Lores managed to help navigate the nine miles to her friend's house, and proceeded to toss a bouquet of roses to her friend from the plane.
Lores overcame several shortcomings (pun intended - she was five foot three). She was deaf in one ear, causing her to be considered medically unfit to fly until a specialist repaired her perforated eardrum. Landing was also not her strong point: she was called 'the rock wallaby', often making her plane (a de Havilland DH.60 Gypsy Moth affectionately called My Little Ship) jump.
This amazing woman had to deal with a bunch of sexist bullshit, from articles covering her escapades ("...her activities at the aerodrome are regarded as far above the superfluous potterings of a feminine craze" – the Daily Mail on 12th August, 1932) to Charles Kingsford Smith ("you might make it… if you have the guts" - prior to her 1932 circumnavigation of Australia), to male mechanics at QANTAS often playing pranks on her while she studied the engine maintenance required for her class B commercial ticket, moving things while she was at lunch, or dropping a spanner into an oil drum which she would have to retrieve.
Lores was still hell bent on making the record books. She could have used the commercial licence to obtain employment in the industry, but instead intended it to make long distance flights.
Being 'first' was her persistent focus. No-one can take that from you: even if they beat your time later, you'll still be first. On Christmas Day 1931 she made the longest one-day flight by an airwoman in order to spend Christmas with her husband in Brisbane, and have Boxing Day lunch with her father in Wangaratta (1525 kilometres or 947 miles away).
In August the next year she set off to became the first woman to circumnavigate mainland Australia. This flight was a nightmare, to put it lightly, forcing her to deal with (in no particular order) getting lost, dozing off mid-air (her head dropping woke her), a damaged throttle and shock absorber, a collapsed undercarriage, compass malfunction due to iron ore deposits in the earth, invisible (dried up) riverbeds hampering navigation, rain limiting visibility, a split starboard wing spar from a rough landing (luckily picked up by mechanics in Perth - it was hanging on by threads), a 10c sized hole in one piston and cracks in two others, and an incredibly close call with a ballsy photographer in a plane next to her, trying to get close up shots and inconveniently locking wings in the process. Having spent 95 hours and 27 minutes over 45 days in the air and covering 13,000 kilometres (over 8,000 miles), she eventually landed back in Brisbane in September, her second record a success.
In 1933 she attempted the first solo flight by a woman from Australia to London (20,000 kilometres or 12,427 miles). During a particularly bad monsoon, concerned her plane would be ripped apart in the winds, she made an emergency landing on a beach off the coast of Malaysia but ended up in the ocean, her wing having caught the water while she avoided hitting an antisocial buffalo, and the plane flipped.
The Gypsy Moth was 60% written off. She spent the next few days warming up to the locals (none of whom spoke English), and managed to get the vehicle out of the water and to Calcutta for expensive repairs (read: almost half the value of a brand new plane). Despite the setbacks she decided to push on and actually landed in England ten minutes earlier than planned.
The Klemm L32-V plane she flew 29,000 kilometres (18,000 miles) from Brisbane to South Africa in 1937 (yet another record) was destroyed in a hangar fire two years later, while her beloved Gypsy Moth was requisitioned for the war effort and declared unserviceable and scrapped after the war.
Her pilot skills were not utilised by the military.
Ever the rebel, she refused to pander to the media, and so has largely faded into obscurity. Still, she retains her firsts, and will continue to encourage others in her bravery, tenacity, and perseverance through ridiculously bad luck and circumstance.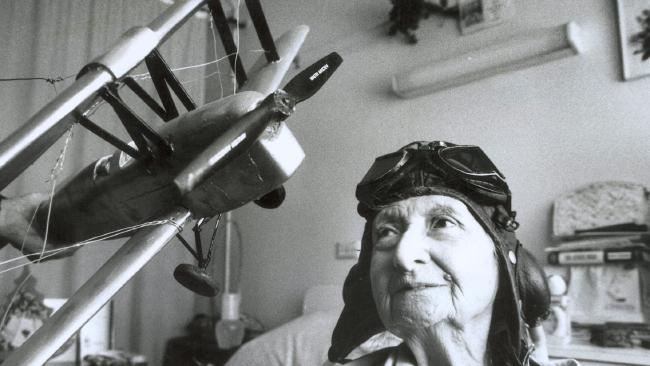 SOURCES:
Museum of Applied Arts and Sciences
Alexander, Kristen, Taking Flight: Lores Bonney's Extraordinary Flying Career, National Library of Australia, 2016
Lores' personal notebooks are digitised here.
Jo-Ann McEwan
Jo is a buxom redhead looking for adventure. She loves her motor children equally, and if you ask really nicely, she might let you take them for a spin. Easily distractible, but also easily obsessed, she is our Editor-in-Chief, resident proof-reader, and zany ideas lady. Caffeine is her fuel of choice.