REVIEW: Deus Mesh Gloves
As a painter, it has been suggested that I consider insuring my hands. Not wanting to deal with insurance companies more than absolutely necessary, my moderately healthy obsession with keeping my digits safe in other ways makes sense, and for this reason I don't ride without gloves anymore ever. Being what is likely the cheapest safety conscious moto gear you can get your hands on, I've amassed a few pairs, but the ones I tend to reach for time and again are my Deus mesh gloves.
Handcrafted in Japan from Nappa cowhide leather, these things are simple but refined. They contain zero elastic, instead being held in place with a keyhole closure incorporating subtle embossed branding on its sensible Velcro lapel. Unlined and perforated, they are comfortable on sunny days across three seasons but are definitely not winter gloves, are only as waterproof as holey leather can be, and are unarmoured apart from additional layers on the palm (and between the thumb and forefinger, presumably for longevity). To aid in rider comfort, most seams are external (internal seams increase abrasion and potential blisters), and these ones have held up over the last few years (and a few spills) with no repairs required.
There is additional venting between each of the fingers (which increases airflow dramatically if you ride with your hands shaped like starfish), but no built-in touch screen tech (if this is a deal breaker for you, check out some tricks here).
For something that literally gets between me and my controls, their best feature is that I don't think about them while they're on (unless my wrists are getting sunburnt) – they're pre-curved, maintain dexterity, have perfectly stretched to the shape of my hands without becoming loose and useless over time, and are easy to take off when I'm done.
They're short; they're schmick; I hope they'll do the trick.
Available in black or brown, you can head into your local Deus ex Machina store if you want to try them on, or they can be purchased online here.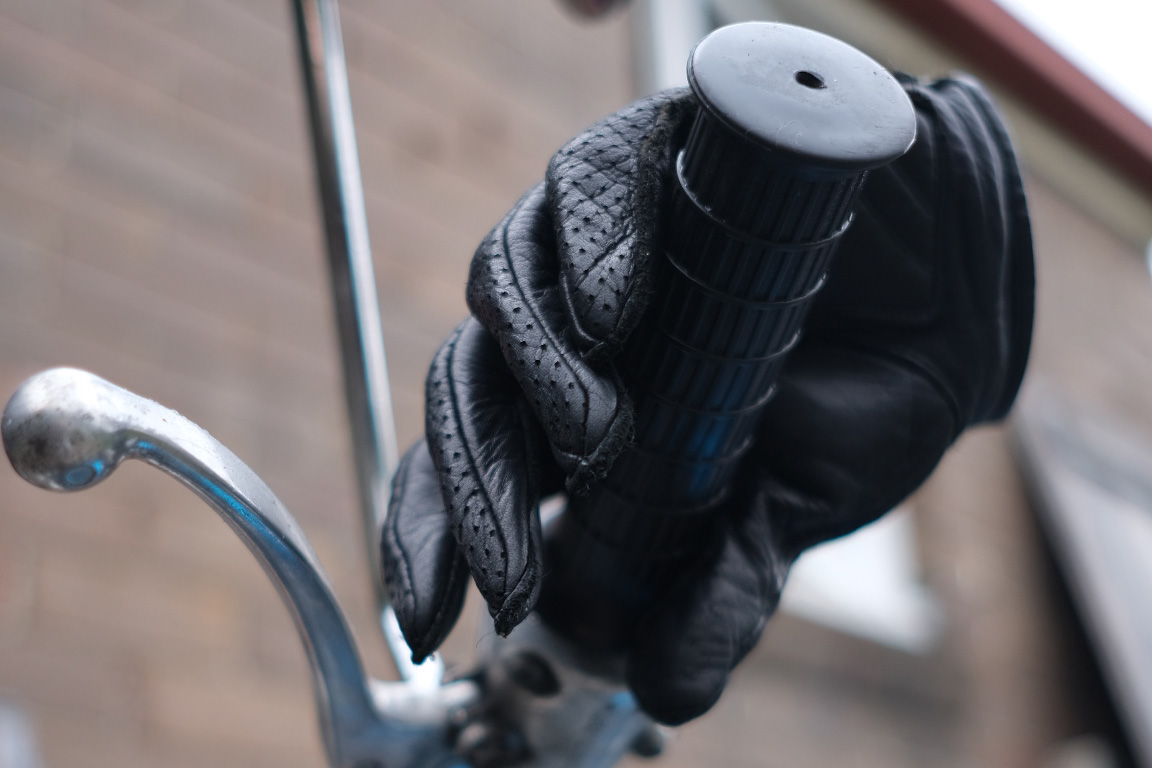 Note: This is an independent review with the product being purchased by the author with their own funds for their own personal use. This review is the opinion of the author and is for use of a general nature only and is not intended to be relied upon as, nor to be a substitute for, specific professional advice. No responsibility for loss occasioned to any persons acting on or refraining from action as a result of any material in this publication will be accepted.
Jo-Ann McEwan
Jo is a buxom redhead looking for adventure. She loves her motor children equally, and if you ask really nicely, she might let you take them for a spin. Easily distractible, but also easily obsessed, she is our Editor-in-Chief, resident proof-reader, and zany ideas lady. Caffeine is her fuel of choice.