CAIT: Authentic
As some of you might know, I went hell for leather and nipped off to the States a couple months back to ride solo across the country. One of my stops was Sturgis, SD, where unbeknownst to me, I would meet more than one kindred spirit (so to speak). Cait Maher was one of them.
Cait is one of the Long Beach Litas and owner of California Moto Market, a pop up retailer specialising in riding gear that is designed with the wearer in mind and that you actually want to wear. Her ride is a sultry Moto Guzzi V7 Classic.
We met in a barn at Buffalo Chip over whiskey and Coors Light. I don't know if it was the festival or the booze but the conversation took a sweet corner into gear practicality and (odd or not considering the circus location that is Buffalo Chip) authenticity of behaviour and the self.
We're thrilled to have Cait take the time to speak with us.
KEL McINTOSH: Firstly - your bike is pure sex. How did you come to own such a fine piece of machinery?
CAIT MAHER: I got pretty lucky with this thing.. I had (over years of riding small cc bikes) narrowed down my ideal moto for me: I needed something with straightforward, classic styling, lower seat height, the ability to be outfitted for long distance touring, and absolutely NO kickstarter in sight. I was looking at bikes like the Triumph Street Twin, the CB1100 or the Moto Guzzi V7.. and after a long and frustrating search on dealer websites and Craigslist.. I found it! I think I walked into the dealership, told the salesman I already knew it was the one for me and please may I just have they keys? From that first test ride, I could feel it.
KM: Have you had a lot of work done to him or were you in the fortunate position of having him road-ready on acquisition?
CM: We did a quick tune up and threw new tires on before I picked it up, I think I put about 500 miles on it the first two weeks I had it.. And I knew there were a few things that I'd like to change, but I am a firm believer that you need to put a couple thousand miles on the bike before you really know it. Since then, I've had a custom lower seat made, swapped the spoked wheels for black cast wheels and Pirelli tires, replaced the handlebars with Speigler naked bike bars, and a few very small touches. I've been putting off the expensive upgrades: full Iron Cobra exhaust system in matte black is the goal next, as well as a tank swap.
KM: Lets talk about California Moto Market. Explain the set up and how you got started.
CM: CA Moto Market exists because the motorcycle industry has never taken women seriously. I'm not talking about the few that work higher up, or have clawed and carved their own space into the boys club… I'm talking about women motorcyclists as a whole. We made up 8% of the industry 10 years ago. Now we're inching closer to 20% and there are more and more taking up the keys every day. Long winded story ahead: last year I went looking for moto jeans. According to the internet, my local Ducati dealer carried a few brands of Kevlar reinforced jeans, and I headed there… only to find they had exactly 4 pairs and none were my size. When I started looking further, I realized there is absolutely no brick and mortar store that could supply me with what I need. One coffee and brandy fueled day later, I had an email, instagram account, and a few local vendors interested in showing up. The next day I had a location, another six vendors, and a logo. Four weeks later we finished a successful day with fifteen vendors in attendance and a collective $10k in womens moto gear bought by over 150 attendees.
And here I am a year later, we collaborated on a market in New York City last weekend, we have one scheduled in May in California, and another one in June in Ft Collins, Colorado! We have over 40 vendors that we work with, and we have finally been able to start sponsoring other women run moto events, like the Fox Run this May in Lancaster, PA. My goal in the next 4-5 years is to secure a space for a brick-and-mortar shop, to include retail, maintenance workshops, and provide a collaborative space for women to grow their moto-inspired businesses.
KM: Our previous conversations have centred largely around authenticity and being honest with ourselves and those around us. Can you give our readers some insight into your views?
CM: I steadily believe in the saying "put up or shut up". I am going to try and explain this without being an ass. I planned to lead a ride to DreamRoll last year, from California to Washington. Day 1 included a nearly 600 mile route, and at the time I had never gone more than ~200 miles in a day. So I set up a day off, and a 520 mile route, and just banged it out. How could I expect other riders to follow me on that 600 mile day if I hadn't done it before? How can I ask someone to buy moto gear that I haven't personally tested? How can I ask them to show up for an event I won't also be at? And most importantly, if I say I will do something, you better believe I will try every option available to me in order to get it done, even when I won't get credit and the job isn't glamorous. I am also the first one to admit when I have reached my skill limit… If I can't keep up on twisties, I'll slow down and take it easy instead of pushing too hard. You don't get points for putting yourself in danger just to keep up with the crowd.
KM: I know you have a weakness for whiskey... Weapon of choice?
CM: Bulleit Bourbon if I have a choice. Jameson if I'm somewhere that probably can't make an old fashioned. Even better when I have to answer a question like the one above, and can't quite do it without being mean.
KM: How long have you been riding with the Litas of Long Beach for? How'd you get involved?
CM: I swear most good things in my life just sort of happen. I met Jayme at a BBQ, we made plans to go to BRO4 over wine and tiramisu, and at the time she was the only gal I knew that rode (who wasn't a moto journalist) and I had absolutely no idea what I was getting myself into. That weekend we met so many amazing women, and the second we got home she sent me a text asking if I wanted to start a Litas chapter. I actually said no because I didn't live in Long Beach, but I'd definitely show up for the rides! Somehow that still counted for something, and the six of us has grown to well over 100. I have never felt more comfortable than with this group of ladies, everything we have done, we've done together. They've supported every hairbrained idea I've come up with, and have been the reason I've finally felt at home here in California.
KM: What rides do you have planned this year? Solo or group rides?
CM: Oh boy! So many. Nowhere Moto Show in Joshua Tree is next. I'm flying in and renting a bike through Twisted Road for the Fox Run in Pennsylvania in May, SO excited to get some east coast miles in. We've got a tentative trip to Zion Nat'l Park in Utah sometime this summer for camping, pending weather reports. The DreamRoll of course is going to be insane this year, and Babes Ride Out 6 is impossible to miss. I'm actually hoping to get a long solo ride up the coast done, it's hard to find some time in between all the bigger events, so that may be a last minute on-a-whim and let's go!
KM: Favourite piece of gear at the moment? Any "must have" items?
CM: Well it's been raining in SoCal this month, which is highly unusual.. And my REV'IT suit has seen a fair share of use, but I can't say that space suit is my favorite. I think it's between my TCX Waterproof Blend boots (so freaking comfortable and no stupid side zippers) and my REV'IT Ladies Logan Jacket. It's so freaking perfect at not looking like a motorcycle jacket, and also has complete armor and abrasion resistance. Moto jeans are still such a touchy subject for me.. I just had a pair re-tailored from bootcut to skinny and I'm still iffy about them. I'm holding out for the Atwyld Commuter Moto Jeans, or literally anyone who wants to make a size 28 high waisted, skinny, stretchy, black moto jean. Like- please, I'm getting desperate here!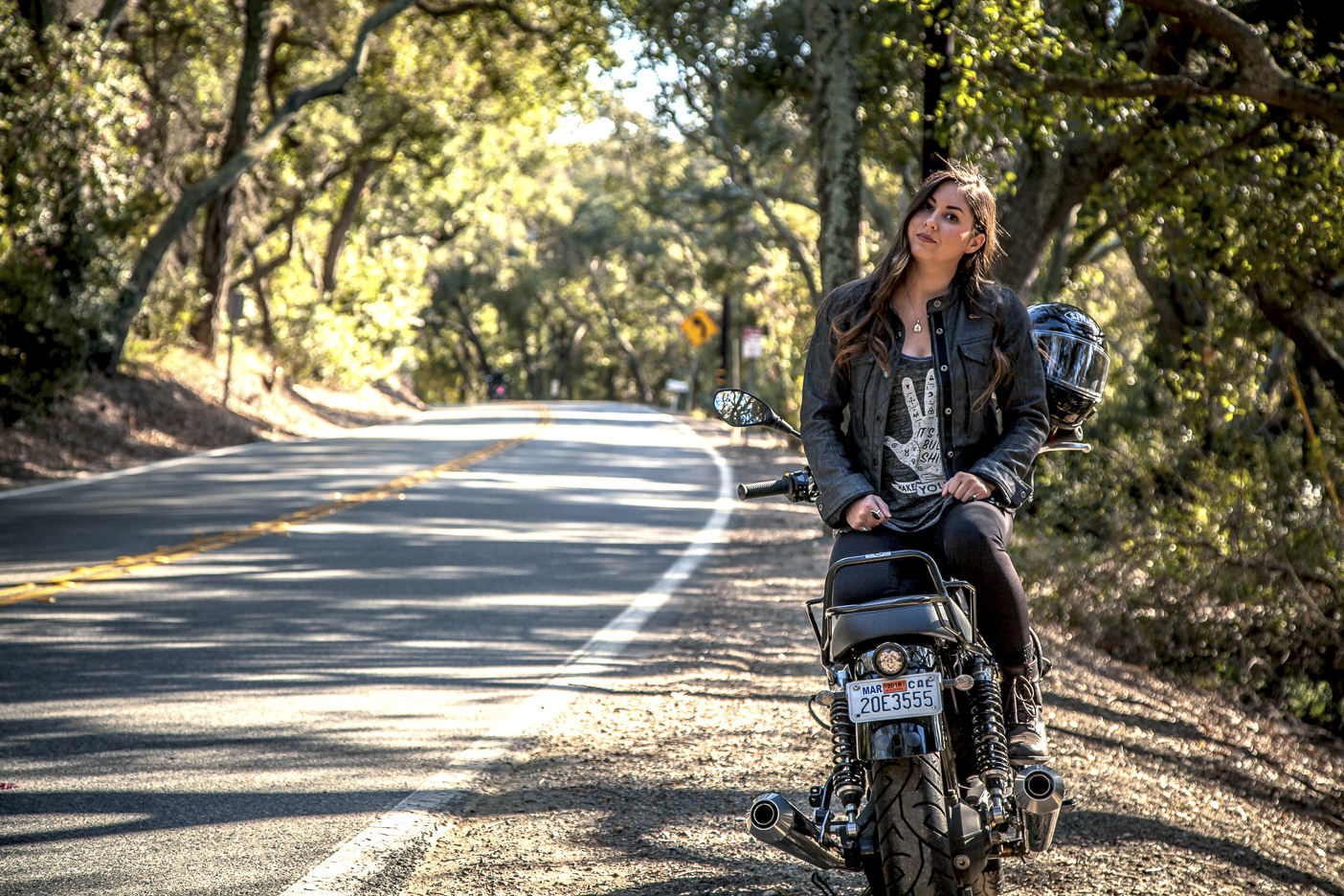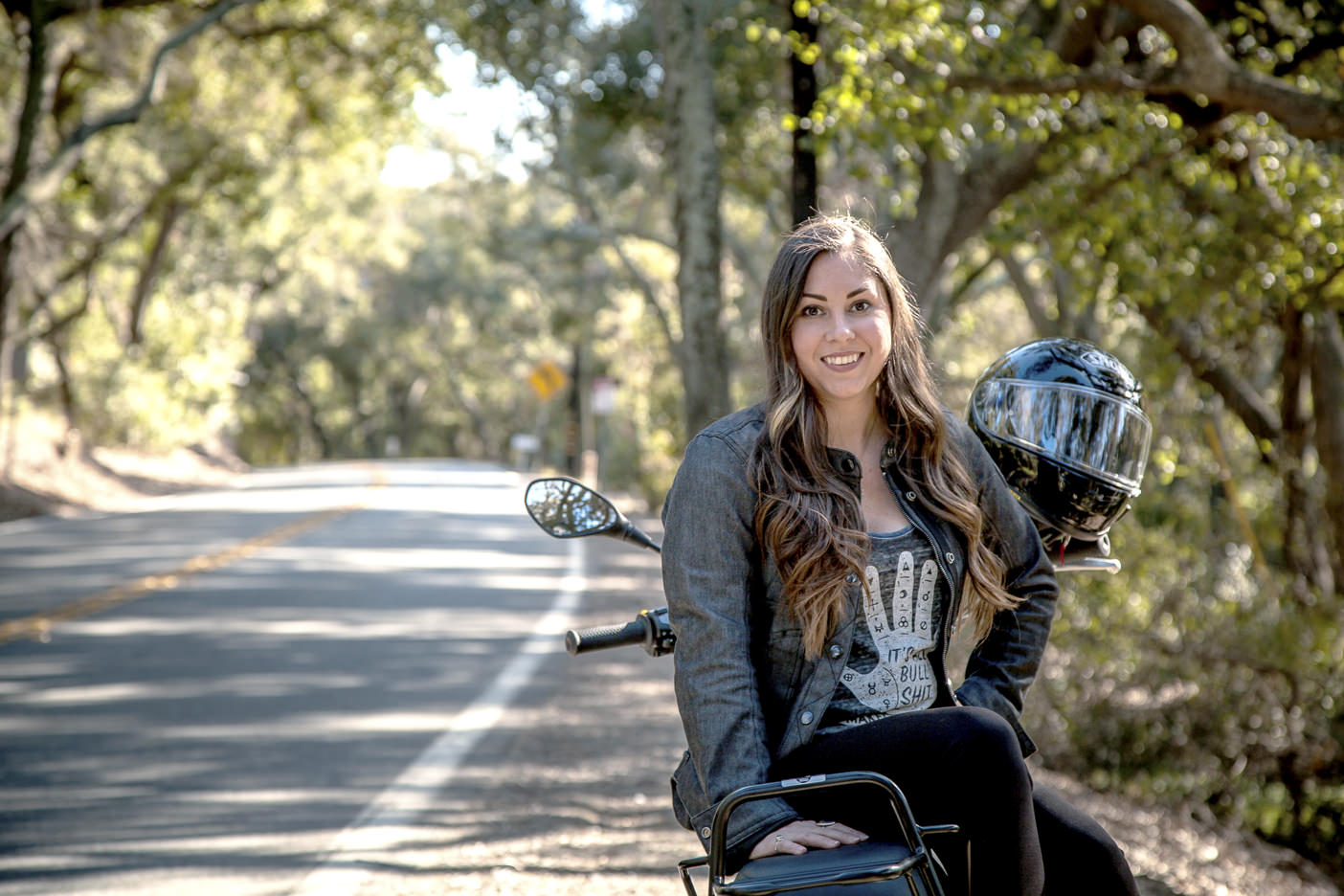 Kel McIntosh
Kel has the face of a siren and the mouth of a drunken sailor. She enjoys dancing up a storm to Slayer and 1930s jazz, whispering sweet nothings to her CM250 'Bronson' and delicately adjusting her carburettors, but can also tell you the genus of Magnoliophyta. Kel is our Associate Editor and Project Manager, and has the organisational prowess of a circus ringmaster, using it to crack the IVV team into shape with colour coded calendars and to-do lists.